Dr.Zakir Naik, the most effective Caller to Islam today!
He strikes fear in the hearts of those who seriously lack knowledge of their own professed faith or beliefs! Not one Kaffir @ Disbeliever in Allah has managed to defeat Dr.Zakir Naik when it comes to Comparative Religious Forum or Dialogue for he can simply roll off in a non stop reference to the Scriptures of Islam, Christianity, Judaism, Hinduism, Buddhism, Sikhism, etcetera like a field soldier operating a machine gun firing salvo after salvo of facts against his opponent till they lift up the proverbial white flag in surrender!
So many have tried but failed and many of them eventually embrace Islam after realizing their folly and because of his tremendous success in exposing the falsehood that these opponents to his highly successful Dakwah Mission all over the world has achieved, quite a number of such persons have resorted to calling him names and branded him as a firebrand extremist propagating terrorism!
Hehehehehe. Far from it! These fellows simply do not have it in them to face Dr.Zakir Abdul Karim Naik on equal footing and can't counter his statements with valid proof or evidence.
The recent attacks carried out by some terrorists in Dhaka, Bangladesh where he was said to be admired and followed by a number of those terrorists exposes the fact that his critics simply lack common sense and logic in attributing such attacks to be his fault!
It's simply ridiculous and utterly preposterous!
What can Dr.Zakir do if some jackass around the world who follows his noble efforts in calling people to Islam via the correct manners by which is enjoined in Islam goes on and commits atrocities on their own contrary to what Dr.Zakir calls for?
Can we go and prosecute this or that righteous person if some idiot who claim to be his students goes on and commits a crime without the teacher knowing about it or had anything to do with such a madness? What nonsense is this?
Over in India, there is a lunatic television host by the name of Arnab Goswami ranting about Dr.Zakir being a terrorist!
We all know that in these times, there will be those who seek to ride on someone else's fame by accusing them of this or that but for this crazy newscaster to go about spewing lies about Dr.Zakir really is a case study for rabid insanity in the world of broadcasting!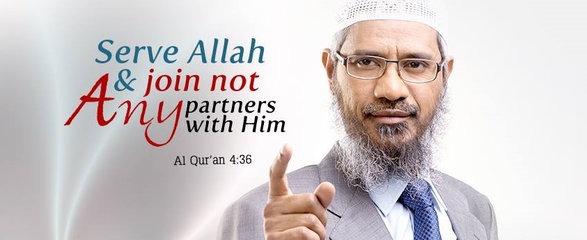 Instead of studying their own scriptures, most of those who oppose Dr.Zakir Naik choose to do so blindly and do not possess the true knowledge that reveals the Truth that leads to Islam.
Click here to watch this video Zakir Naik reply to Arnab Goswami
and also Dr.Zakir Naik exposes Indian Media Malice
After the late Allahyarham Sheikh Ahmed Deedat, Dr.Zakir Naik is the world's most effective Da'ee @ Caller to Islam today and no matter what his critics might say or accuse him of, we who are his fellow Da'ees know that all that is mere lies and fabrications against the current world's foremost authority in Comparative Religion.
May Allah bless and safeguard Dr.Zakir Naik from all such liars! Ameen.
About Author