Ramadan Mubarak to all Muslims!
Assalamualaikum Warahmatullahi Wabarakatuh.
Ya Ikhwanul Muslimin na wal Muslimat,
We are blessed by Allah Azza Wa Jalla to be living today and be in the blessed month of Ramadan al Mubarak once again. Alhamdulillah!
As you all know, this is no ordinary month! Ramadan is the sacred month for us who are Muslims and Mukmins.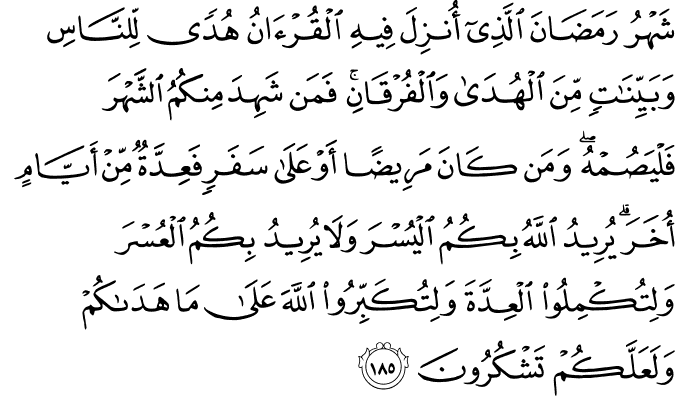 Transliteration
Shahru ramadana allatheeonzila feehi alqur-anu hudan linnasiwabayyinatin mina alhuda walfurqanifaman shahida minkumu ashshahra falyasumhu waman kanamareedan aw AAala safarin faAAiddatun min ayyaminokhara yureedu Allahu bikumu alyusra wala yureedubikumu alAAusra walitukmiloo alAAiddata walitukabbiroo AllahaAAala ma hadakum walaAAallakum tashkuroon
Sahih International
The month of Ramadhan [is that] in which was revealed the Qur'an, a guidance for the people and clear proofs of guidance and criterion. So whoever sights [the new moon of] the month, let him fast it; and whoever is ill or on a journey – then an equal number of other days. Allah intends for you ease and does not intend for you hardship and [wants] for you to complete the period and to glorify Allah for that [to] which He has guided you; and perhaps you will be grateful.
Without a doubt, this month is the most awaited in our Islamic calendar every year for it is the month where we are commanded to fast from before the break of dawn till the sun sets.
During our fast, we are to abstain from eating and drinking, refrain from engaging in any acts that will nullify our fast, increase our acts of prayer and worship of Allah the Almighty. Show more care and attention to the poor and needy. Not commit any acts that are forbidden in our faith of Al Islam and to constantly be in dhikrullah.
We are encouraged to break our fasts in a moderate manner and to join in the congregational taraweeh solats at our local masjids. We are to pay our zakat fitrah and to strengthen family ties and mend relationships. Ask and seek forgiveness from one another and to bond as an ummah worthy of Rasul Sallalahu Alaihi Wassallam's Syafa'at in the Yaum al Akhirat.
At the end of Ramadan we are to celebrate Eid al Fitri as our successful completion of our saum for the sake of none other but Allahu Ta'ala, Rabbul Alamin. Insya Allah. May Allah bless and accept our Saum and reward us with His Forgiveness and enter us into His Jannah. Amin. Ya Rabbal Alamin.
About Author